MULTI-MAX Stationary Multipurpose Finishing Machine
Deburring, Trimming, Grinding and Brushing
Abrasives for the MULTI-MAX

| | |
| --- | --- |
| | |
| Click here for FIX Hook & Loop Discs | Click here for Hollow-Core Abrasives |
Specifications
Accessories
Features
MULTI-MAX Specifications
Part No.
30402
Power
220 - 240V, 3-Phase
Speed
2,800 RPM
Abrasive Diameters
4" to 7"
Disc Mounting
5/8"-11 UNC or 7/8" arbor
Wheel Mounting
Hollow core or Keyway
Weight
5.2 lbs.
Standard Equipment
Multi-Max Tool, 220V

PTX Flap Wheel, 80 grit (2)

PTX Interleaf, 180 grit (1)

Mini polishing pastes, white (P/N 40013) and blue (P/N 40014)

Spacer ring set (1)

Flat flap disc, 80 grit (1 P/N 36080)

FIX backing pad (1 P/N 80115UF)

FIX Zirconium discs, 40, 60, 80, 120 grit (1 ea.)

FIX TZ Pyramid discs, 400, 600, 1200 grit (1 ea.)

FIX SuperPolish disc (1 P/N 80715N)
Part No.
Description

36060

36080

36120
Flat flap disc, 60 grit

Flat flap disc, 80 grit

Flat flap disc, 120 grit

30420
Machine Stand

Dimensions (L x W x H)

15-3/4" x 13-3/4" x 32-5/8"
Shaft mounting for all abrasives from the PTX ECO SMART system.
5/8" - 11 UNC spindle thread for grinding discs or a 7/8" arbor.
Uses the FIX HOOK & LOOP SYSTEM
Compatible with the new flexible shaft attachment.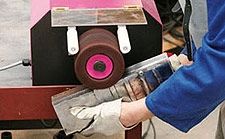 Uses all PTX abrasive wheels.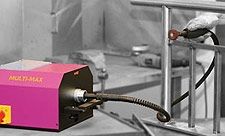 Compatible with the flexible drive shaft.

Stationary multipurpose grinder for all workshop grinding, blending and finishing jobs.
This versatile bench grinder uses all PTX abrasive wheels and discs with 5/8" - 11 UNC threads or 7/8" arbor.
Two shaft mountings. Uses grinding discs with 5/8"-11 UNC or 7/8" mounting and abrasive grinding wheels for longitudinal surface finishers.
Fast deburring, trimming, grinding, brushing, and more
Uses Poly-PTX grinding wheels for longitudinal grinding, satin finishing, etc.
Uses grinding discs for plain grinding, fine grinding, etc.
Uses FIX HOOK & LOOP system for plain grinding, fine grinding, and more.
Powerful 3-Phase, 750 watts AC motor, 220 volt.
Transparent, hinged grinding guard.
Roller support for more accurate work.
Adjustable support rail with safety hood for grinding discs up to 7".
Drive motor can be used with the flexible shaft for grinding in narrow and awkward spots.
For a safe upright working position, use with the MULTI-MAX machine stand. (P/N 30420)