TwinMix 1800 Portable Automatic Mixing Station
Reduce Dust While Adding and Mixing Medium- to High-viscosity Materials
Up to 2000 lbs. of production output per hour
Optional timer and second cart cuts labor and production time in half – one user can mix a new batch while pouring the previous batch!
Ideal for mixing heavy and trowel urethanes, brick and heavy mortar, filler and leveling compounds, plaster, thin-bed mortars and other high-viscosity materials
Two contra-rotating paddles thoroughly combine compounds into a homogeneous, lump-free mixture
Dust extraction port collects dust while adding materials and mixing
Unique Features Improve Productivity and Reduce User Fatigue: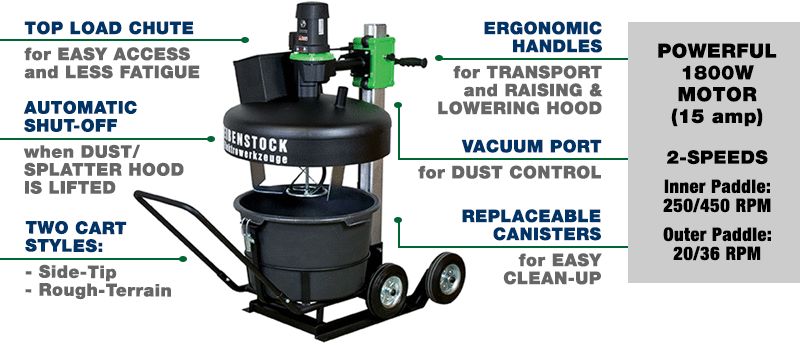 Make the tough, often time-consuming process of mixing high-viscosity materials easy with the TwinMix 1800 T portable mixing station. This mixing station streamlines the blending of materials with a medium to high thickness while protecting against dust and other contaminants.
Additional features of the TwinMix 1800 T include: 
Timer for automatic mixing
Dual mixing paddle with scraper
Replaceable liners for easy cleanup and prevention of cross contamination
Dust extraction port for connection to industrial vacuum
Front Pouring cart (optional side pour cart available)
Brush-lined inlet tube for dust containment
Ergonomic handles and large wheels for easy mobility
Safety switch disables motor when hood is lifted during mixing
Transport carts and buckets can also be used with handheld mixer
Cut Labor & Production Time IN HALF with a Timer and Extra Cart!

One User can Mix a New Batch While Pouring the Previous Batch
How the TWINMIX Will Improve Mix Results and Save $$:

The robust two-speed, 15-amp motor is built in Germany and designed to outlast and outperform. A provided canister cover and dust extraction port reduce airborne dust and splatter. Also, the pouring cart enables workers to perform clean, accurate pours. Continuous batch mixing is possible with the addition of one or more extra carts.
Specifications
Video
Standard Equipment
Applications
ACCESSORIES
| | |
| --- | --- |
| Model | Twinmix 1800 TFR |
| Power | 15 AMP / 110 V |
| Bucket Capacity | 17 gallons |
| Helical Rod Speed | 250 / 450 RPM |
| Scraper Paddle Speed | 20 / 36 RPM |
| Weight | 155 lbs. |
| Timer (Included) | P/N 32353000 |
*To order Twinmix 1800 T with a side tip cart, order P/N TWINMIX 1800 TSD
Standard equipment includes:
Timer (P/N 32353000)
Motor on stand
Mixing rod (inner helical paddle, P/N 31452)
Mixing paddle (outer paddle, P/N 31451)
Mixing bucket (P/N 32341)
Front Pouring cart (P/N 32333000)
| | | |
| --- | --- | --- |
| | | |
| Thin-bed mortar | Masonry mortar | Plasters |
|   |   |   |
| | | |
| Floating screed | Tile cement | Grout |
|   |   |   |
| | | |
| Insulation board adhesive | Screed | Filler |
 Timer P/N 32353000 (Included)

17 Gal. Replacement Bucket (Tub) Order No: 32341

Tippable Transportation Cart:

17 gallon bucket capacity
Ideal for transporting material on flat surfaces

Order No: 32332000

Description:  Side tip Transport cart with 4 caster wheels

Big Wheel Transportation Cart:

17 gallon bucket capacity
Ideal for transporting material on rough terrain

Order No: 32333000

Description: Front Tip transport cart with 2 large wheels