MABasic Series Electric Portable Magnetic Drills
CS Unitec's MABasic line of magnetic drills consists of powerful and reliable machines at an affordable price. These professional-grade workhorses have a hole cutting capacity of 1-3/8" diameter to 3-1/16" diameter with annular cutters in structural steel and other metals. With included geared drill chuck, these models easily convert to a standard drill press with a 10" stroke for conventional twist drills.
CS Unitec's MABasic magnetic drills are equipped with an Electronic Safety Shutoff Sensor and internal lubrication system. Standard equipment includes a lubrication bottle, safety strap, carabin hook, allen keys, pilot pin and carrying case.
Heavy-duty, purpose-built, single-speed workhorse
Drill up to 1-3/8" dia. with annular cutters
Twist drill up to 1/2" dia. with included chuck
Compact, lightweight and portable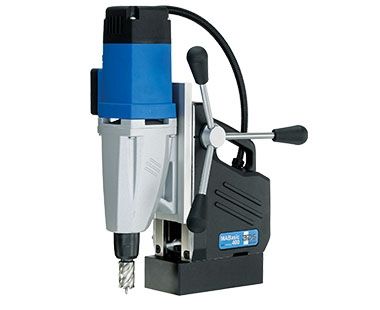 Professional-grade, two-speeds, 9.5 Amp
Drill up to 1-5/8" dia.
Twist drill up to 5/8" dia.
Compact, lightweight and portable
Professional-grade, two-speeds, 10.5 Amp
Drill up to 1-3/4" dia. with annular cutters
Twist drill up to 3/4" dia. with included geared chuck
Compact, lightweight and portable
Professional-grade, four-gears
Drill up to 3-1/16" dia. with annular cutters
Twist drill up to 1-1/4" dia. with included geared chuck
Compact and portable