MAB 485 Portable Magnetic Drill Cuts Through Boeing 747
With Big Imagination comes big dreams and unexpected challenges to achieve what the mind envisions. Only holes stand in the way…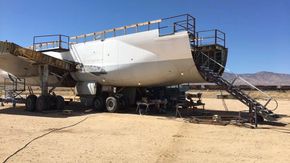 CS Unitec was approached by Big Imagination to assist in specifying and supplying a drill and lubricant to cut holes in the titanium wing beams of a Boeing 747. After describing their vision – an art project unlike any other attempted before – we were intrigued and excited. This is the story of the 747 project and how CS Unitec and Big Imagination collaborated to drill 232 (yes – two hundred and thirty-two!) 5/8" diameter holes through 2" thick aerospace-grade titanium.
The brain behind Big Imagination had been dreaming of turning an airplane into a larger than life mobile installation art piece for almost 10 years. Years ago, Ken Feldman, Big Imagination's CEO, attended Burning Man where he encountered a torpedo-style bicycle made from airplane fuel tanks. His mind raced with thoughts of how impactful and groundbreaking it would be to turn a Jumbo Jet into a giant mobile art piece - a project never attempted before.
After tracking down a decommissioned 1985 Boeing 747-300 at the Mojave Air and Space Port boneyard and gathering an army of 500+ volunteers to turn his dream into a reality, Feldman was on his way.

To transport the 747 over 500 miles from Mojave California to its final destination in the Black Rock Desert of Nevada it would need to be modified significantly. The tail and a large portion of the wings were removed, reducing it to 135 ft. long, 32 ft. tall and 60 ft. wide. To move on public highways, it would need to be broken down into smaller parts, two upper fuselage sections and one long main lower fuselage section.  The main issue was the 60' width of the fuselage. The wings and attached landing gear had to be removed in such a way that they could be rapidly reattached on-site and still maintain their original structural integrity.
The only other time the wings of a 747 have ever been removed and then reattached in such a manner was on the 747 Space Shuttle carrier aircraft on display at Johnson Space Center/NASA Space Center in Houston, TX. This operation was performed by Boeing's elite Aircraft On the Ground operations unit.
The backbone structure of the wings and landing gear of the plane is an enormous titanium landing gear I-beam, "the largest titanium forging made in the western hemisphere," according to Feldman. The Big Imagination team traveled to Johnson Space Center to inspect Boeing's work. Removing the landing gear I-beam is essentially impossible. Boeing cut the I-beam in half and then used a series of titanium splice plates to reassemble the structure.
 
Feldman now knew it was possible to cut and reassemble the beam. Big Imagination's engineering team worked up the calculations for using 7000 series aluminum splice plates rather than titanium, saving more than $50,000 in material costs.  The only hitch in the plan was that the I-beam wasn't just titanium… it was an aerospace-grade titanium alloy. They had no idea how Boeing drilled all those holes in the I-beam.
Drilling through titanium presents its own challenges – the material has a very high strength-to-weight ratio, is non-ferrous and chemical/rust resistant. Additionally, titanium has a low thermal conductivity, as well as a tendency to stick to the cutting tool. Both of these complications require heavy duty equipment and a large amount of lubricant/coolant to drill cleanly and prevent premature tool failure. That said, when most fabricators envision titanium drilling, it is assumed that large, costly equipment such as wire EDM and water jet machines are required.
Big Imagination's team was comprised of members with a wide variety of experience, so the brains to complete the project weren't an issue. The largest hurdle was that the team didn't have access to an environmentally controlled area and all the specialized high-tech equipment original equipment manufacturers like Boeing have readily available to complete jobs to spec. So specialized power tools, more hands-on fabrication and old-fashioned ingenuity were what they had to work with.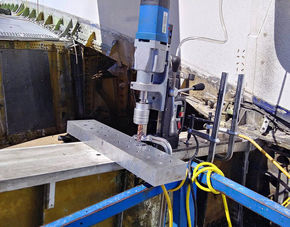 After nailing down the cut points, engineering the splice plates and triple checking the details, the team was ready to drill.
Big Imagination's primary "driller", volunteer fabricator Keru McKenzie, was tasked with cutting the 232 holes in the titanium I-beam. The process he created was to pre-drill holes in the 2" thick 7000 series aluminum splice plates, then sandwich them onto the titanium I-beam with a ½" thick steel plate (see diagram at right). The team initially tested two options for drilling the holes – a hand-held drill and a magnetic drill from another manufacturer – and neither were able to "cut it."
That's where CS Unitec arrived on the scene. Feldman contacted our technical team to get our take on how they could first cut one hole through the stacked material and then repeat the action 231 more holes. It was determined that the best drilling option for the job would be the MAB 485 portable magnetic drill. With up to 4-1/2" of varied material to drill through in one pass, the 485's powerful motor and long stroke seemed like a good fit. Its 2-gear, variable-speed motor (50-250 RPM and 100-450 RPM) offered the low speeds and high torque the job required. "One of the great things about this mag drill is that it's got a huge throw," comments Feldman. "Which is basically the only way we could pull this off."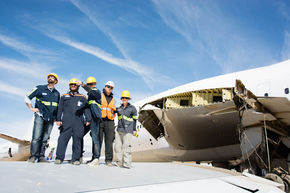 Aside from the challenge of drilling such a hard material, titanium requires the use of a robust, constant flow of lubricant/coolant to ensure the material exits the cut and the bit/cutter doesn't prematurely fail. The MAB 485 portable magnetic drilling machine has an automatic internal lubrication system that allows for an external lubrication device to be attached to supply liquid to the cutting site. (View a video here describing the challenges of the project and how the MAB 485 stepped up to the plate.)
According to Keru, each cut through the complete stack of material took about 12 minutes to complete and used about a ½-gallon of lubricant. Typically, fabricators are able to utilize the integrated cutting oil reservoir or manually apply lubricant. However, with the need for high coolant flow, constant drill-to-material pressure and the frequent orientation changes (vertical/horizontal/upside-down), Keru designed a larger capacity gravity-fed system to constantly feed coolant to the drill, regardless of the orientation of the cut.

To cut the holes, protect the drill, and extend the tool life as much as possible, ProLube™ non-toxic cutting lubricant was specified. Friction and heat were the main enemy of the project – when drilling titanium without sufficient lubrication, there is a high potential for immediate hardening of the workpiece, as well as robust sparking and a likelihood of fire hazards. Prolube™ lubricant is efficient, long-lasting, and has high thermal transfer – it is mixed with water 16:1 for most applications, so only a relatively small amount is needed.

Fortunately, after drilling the 232 holes, Keru reported that the drill motor and body were in great shape and showed no signs of wear or stress – from the drilling or the harsh desert conditions. The portable magnetic drill machine's intelligent electronic torque control balanced the need for high power at low speeds to get through the aerospace-grade titanium and minimize the stress on the motor.
"CS Unitec's MAB 485 was the equipment that made the difference in being able to complete a tough drilling job," stated Keru. "The big things that made it work were the high-torque motor, choice of speeds, and powerful magnet."
Summing up the project, Feldman is nothing but proud of his army of volunteers, their dedication and their inventiveness with the tools available. "They (Johnson Space Center/NASA Space Center Houston) had Boeing come out and do all this work with all their fancy tools," reminisces Feldman. "What we had was one Keru and one CS Unitec and we did the same thing! The mag drills made all the difference."
CS Unitec/BDS Maschinen electric magnetic drills - Made in Germany.
After content