Heavy Duty Needle Scalers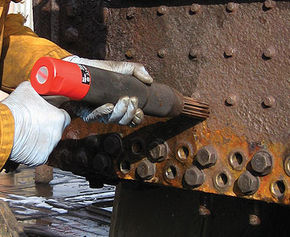 CS Unitec's needle scalers are perfect for strong, hard-working crews that need to prepare or repair metal and concrete surfaces. This line of heavy-duty needle scalers for concrete and metal are ideal for texturing concrete, cleaning weld seams/joints, removing coatings and corrosion, with the ability to adjust to contours and cleaning irregular surfaces. Needle scalers and chisel scalers convert in seconds with optional head or when purchased as a Kit.
Learn how CS Unitec's Needle Scalers offer more advantages than the competition!  
Models include:
Vibro-Lo™ models with integrated vibration reduction technology operate with 8x less vibration than standard models, reducing the risk of vibration-related injury. An optional dust shroud gathers dust and debris during operation, improving workplace cleanliness and improving environmental safety and protection.

Vacuum System needle scalers include an integrated dust shroud for dust-free work when used with an industrial vacuum. They are ideal for cleaning and stress-relieving weld seams and joints, texturing concrete, and removing coatings, corrosion, and other accumulated materials on applications with hazardous airborne particulates.

Standard needle scalers with inline, pistol and semi-pistol grips and optional dust shroud to collect dust and debris

ATEX-Certified models are specially designed for use in hazardous areas and EX Zones. Fully certified to the EX II 2Gc IIA T4 under the European Directive 94/9/EC classification, pneumatic power and Copper-Beryllium needles make them safer in hot work zones. Paired with an ATEX-certified dust extraction vacuum, they can prepare surfaces, dust-free in dangerous applications.
Pistol grip with 19 or 28 needles
2200-3000 blows per minute
Optional dust shroud available
12- and 19-needle models with inline grip
3000-3800 blows per minute
Optional dust shroud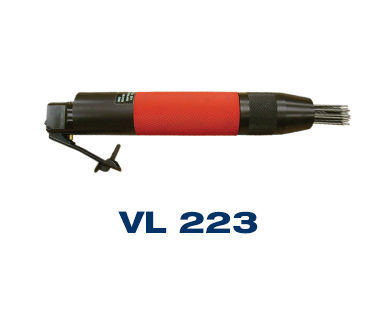 8x less vibration than standard needle scalers
Vibration dampening components offset hammer vibration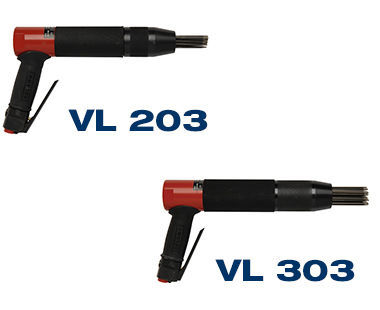 8x less vibration than standard needle scalers
Vibration dampening components offset hammer vibration
Integrated vacuum connection for inline dust collection
Texture concrete
Stress-relieve weld seams and joints
Remove coatings, corrosion and other accumultated materials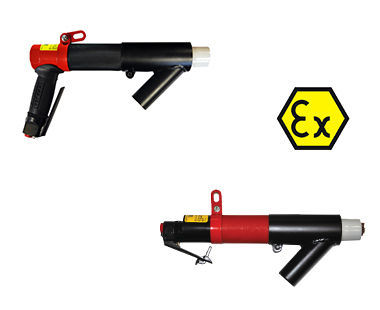 ATEX Certified for working in hazardous environments and Ex Zones
Kit includes Copper Beryllium non-sparking needles
8x less vibration, 2400-3000 blows per minute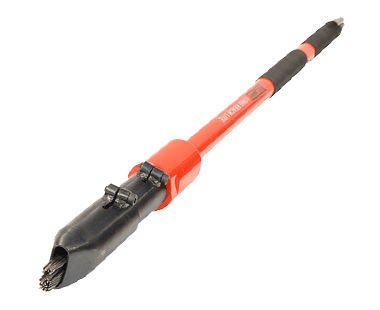 Available from 2 to 6 Ft long
Improves ergonomics for overhead, floor and far reaching scaling applications
Vacuum Shrouds Available
Air powered