Portable Electric Hand-Held Mixing Drills
From structural applications to floor resurfacing, mixing of materials is vital to just about any project. When space or access is limited but maintaining superior batch quality is critical, a portable electric handheld mixing drill from CS Unitec gets the job done.
At CS Unitec, we design equipment to make your job easier. Our mixers utilize components from leading German manufacturers to ensure reliable, high-output performance. Depending on the mixing drill model, an operator can mix quantities from one gallon to 290 pounds. All of our portable electric handheld mixing drills are operable by hand or with portable mixing stands. Pairing our mixers with mixing stands increases blended material production and application. Our mixing drills also come with helical paddles, which mix from the bottom up. They lift and shear materials quickly and efficiently to produce excellent uniformity while preventing air bubbles from being sucked into the finished product. 
The CS Unitec Advantage
Whether you're a mason, painter, or other professional requiring materials to be mixed, getting the job done means the generation of large quantities of a finished product. Every CS Unitec portable electric handheld mixing has the reliability and performance capabilities for fast and efficient mixing that will save you and your crew time and money
 
Ergonomically designed metal frame with larger handles 
Fiberglass outer housing
Weather-sealed electronics
Soft start and variable speeds
High-torque motors with specially designed gears
Helical paddles
Versatile
 
The compact mixing drill for 2-bag batches
2-bag / 20 gallons / 2.7 FT3 capacity
Up to 700 lbs./hour output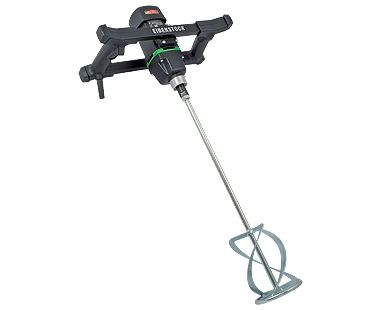 The standard mixer with high reliability for construction
Ideal for medium- to high-viscosity materials
2-bag, 20-gallon capacity
The powerful, professional mixer for tough, continuous use
Ideal for high-viscosity materials
5-bag, 25-gallon capacity
The professional mixer with 2-speed variable gearbox
5-bag, 4.8FT3, 35-gallon capacity
0-250 RPM / 0-580 RPM
Speed controlled by trigger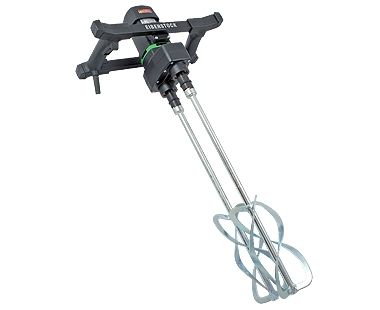 Dual Paddle Mixer for Heavy-duty Mixing Jobs
Selectable forward and reverse rotation without paddle change out
5 bags / 25 gallons / 3.3FT3 / 200 pounds of high-viscosity materials