Walk-Behind Floor Scabblers – Concrete Floor Scabblers
5-Head Model & 11-Head Low Vibration Model Available
The CS Unitec-TrelawnyTM 5-Head Concrete Floor Scabbler is made for fast concrete removal & demolition with an integrated dust port. The MHS5 is ideal for leveling high spots, texturing & roughening for sealant & overlay preparation, as well as breaking down hard coatings prior to blast cleaning.
The CS Unitec-TrelawnyTM Low-Vibration 11-Head Concrete Floor Scabbler is made for concrete keying & laitance removal- 11 heads provide 24,000 light blows per minute, with 8x less vibration than the standard tool. Ideal applications include: concrete keying, laitance removal, & situations that require gentle, effective scabbling without damaging the substrate below. 
Contact our concrete specialists for assistance with your concrete application: 1-800-700-5919 or 203-853-9522. You can also ask them a question here.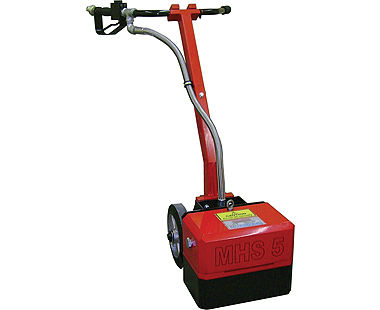 6500 BPM for fast concrete removal
Integrated dust shroud and vacuum port
Level high spots; texture and roughen concrete
24,000 light blows per minute
Equipped with Vibro-Lo™ low vibration technology for 8x less vibration
Optional dust shroud and vacuum port