Magnetic Drills for Pipe - PipeMAB Magnetic Drills
CS Unitec's NEW PipeMAB magnetic drills are a game changer for pipe drilling, tapping, reaming and countersinking. With a patented swivel magnetic clamping system our PipeMAB magnetic drills easily secure and maneuver on pipe, flat and curved surface as thin as 9/64". Pipeclamps are also available for drilling in non-ferrous materials and similar.
Benefits:
Easily attaches to pipe over 3" OD, curved and flat surface saving time and effort
2 permanent magnets for strong clamping force even on thin material
Save on cutting tooling costs with elongated tool holders and variable speed/torque available
Swing arm design allows the machines to swing away for hole inspection, debris removal and adjustment
Contact our magnetic drilling specialists for assistance with your pipe drilling application: 1-800-700-5919 or 203-853-9522. You can also ask them a question here.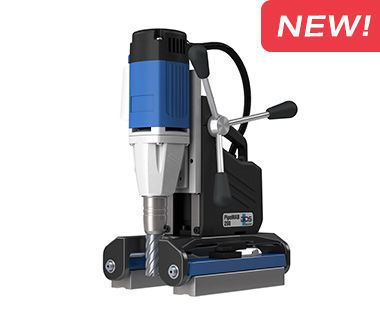 Drill On Pipe 3" OD & Larger
Drills holes up to 1-3/8"
Patented shallow field magnetic technology
Drill On Pipe 3" OD & Larger
Drills holes up to 2-1/2"
Reversible, Tap up to 15/16"
Variable Speed & Torque
Patented shallow field magnetic technology