Pipe Finishing Abrasives
Stainless steel pipe and tubing are used in a wide variety of industries and applications. Consistent and uniform grinding, blending, and finishing – including brush and mirror finishing – is needed on pipe, tubing, and cylindrical fabrications including handrails, public transit grab bars, foot rails, motorcycle parts (including handlebars and exhaust pipes), and more.
Long-lasting and high-performance pipe finishing abrasives can increase efficiency and decrease downtime not only when grinding, blending, and finishing open and closed pipe constructions, but even after the finish is complete. For example, some industries, such as food, pharmaceutical, and chemical processing, require pipe finishes on straight and bent pipe constructions that are smooth, won't harbor bacteria, and can be chemically sanitized.
CS Unitec's pipe finishing power tools and pipe abrasives closely follow contours of the workpiece and create consistent finishes, even on bends of 90˚ and more. Uniform belt tension and minimal user pressure ensure smooth, even contact.
The PIPE-MAX can finish small to large pipes up to 14" diameter. It can also grind weld seams on flat surfaces when working with multi-shape fabrications.
The KING-BOA is designed for pipes from 3/4" to 5" diameter. It will finish 270˚ around a workpiece and, with a slight turn, complete a 360˚ finish.
The GLADIUS multifunctional grinder, with a long-sword-shaped sanding arm, is ideal for hard-to-reach areas such as corners, angles, and tight spaces.
 
Ideal for all metals
10 / pack
For perfect mirror finish on pipe constructions and handrails
4 / pack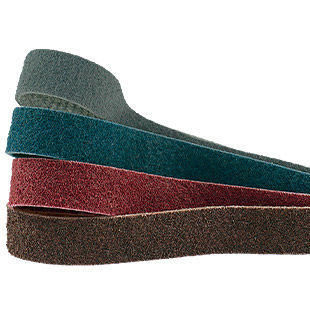 Grits: coarse to superfine (80-400 grit equivalent)
4 / pack
Grits: from A65/280 to A06/2000
10 / pack
Ideal for steel and stainless steel
10 / pack