Are You Aware of the OSHA Silica Standard? Here's What You Need to Know
In 2016, OSHA released the long-coming crystalline silica rule, which agency officials believe will affect over two million employees across the country. Workers who crush, grind, cut, and drill materials that contain silica put themselves in a dangerous position every day, and rules to protect them just weren't strong enough. Now, OSHA has issued two new standards to protect workers from exposure to respirable silica. These standards will also allow employers to tailor solutions to address the specific conditions within their workplaces.
History of the OSHA Silica Standard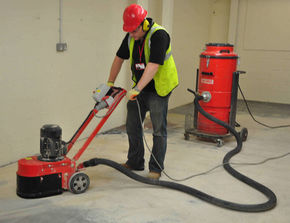 The health risks associated with crystalline silica dust exposure are well documented and date back to the 1700s. Two centuries later, physicians reported silica-related illnesses among granite workers, and by the 1930s, employees had successfully bargained for the purchase of workplace ventilation equipment. Unfortunately, workers within other industries in the U.S. were still at risk, and silica exposure continued to be a serious job and health hazard for many employees.
In 1996, the U.S. Secretary of Labor began a new campaign called "It's Not Just Dust" as a way to encourage safer workplace practices. Later that year, the American Lung Association held "The Campaign to End Silicosis" conference, prompting many stakeholder groups to call on OSHA to implement a more comprehensive silica standard. OSHA regulations for silica dust exposure continued to evolve up until the new regulation was issued on June 23 of 2016.
New OSHA Silica Dust Standards
Prior to June 2016, there was no single standard to address silica exposure. Up until that point, silica enforcement was dependent on several different regulations. The new standard involves two specific regulations:
29 CFR 1926.1153: Respirable Crystalline Silica, for the construction industry

29 CFR 1910.1053: Respirable Crystalline Silica, for general and maritime industries
With these regulations, new exposure levels were set, and they are at about half of that of the old levels. The new exposure levels for action level are 25μg/m3, while the new levels for permissible exposure levels (PEL) are 50μg/m3 over an 8 hour period. There have also been changes made to the OSHA silica standard within specific industries.
What is Silica Dust? 5 Things You Need To Know
Construction Industry Silica Regulations
The construction industry must be compliant to rule 29 CRF 1926.11.53 since September 23rd, 2017. The OSHA standard for silica dust collection requires employers to reduce or limit silica dust exposure on the job site. They must implement appropriate silica dust control methods and are required to follow several important guidelines.
Develop a written exposure control plan. This plan must identify the specific ways silica dust will be controlled. A plan leader should then be designated to implement the plan into action.

Create housekeeping restrictions. Certain housekeeping practices that may increase worker silica dust exposure need to be restricted. Dust collection vacuums with HEPA filtration are examples of some ways workers can stay safe during housekeeping functions.

Provide medical examinations. Workers who wear respirators more than 30 days per year should receive a medical exam every three years.
Employers should also maintain accurate records of worker silica exposure, employee training, and medical exam dates.
General Industry and Maritime Silica Regulations
The new OSHA silica standard for general industry and maritime industries will be enforced as of September 23, 2018. One year after the construction industry's effective date. This standard will require employers to adopt safer practices to ensure silica exposure is below the updated PEL:
Monitor silica PELs. Employers are required to measure silica dust levels to ensure they fall below the PEL. If higher than the PEL, proper protective measures must be taken.
Develop an exposure control plan. Employers should put an exposure control plan in writing, identifying the methods they will use to protect workers. The control plan must contain procedures to restrict access to high exposure areas.
Offer respirators and dust control. Silica dust collection systems and other dust controls should be used when silica exposures exceed the required PEL. In the event that the PEL cannot be reduced, respirators must be worn.
Reduce access to high-risk areas. It is important that employers limit access to areas with above-PEL exposures.
Employers also need to offer medical exams and proper training to all workers who may be exposed to silica dust.
At CS Unitec, we want your company to comply with the OSHA standards for silica dust collection. We aim to help you find the right tools when working with silica dust. Call us today to learn more about how we can meet your silica dust containment needs: 800-700-5919.
For more information about OSHA's silica dust guidelines and regulations, take a look at our OSHA Silica Dust Regulations Compliance whitepaper.