How to Maximize Output – and Profitability – On Your Next Self-Leveling Coating Job
Looking to ramp up your output, maximize your profit, and maintain quality on your next self-leveling job? It all comes down to lining up the right equipment, assembling the right crew, and following the manufacturer's guidelines for proper mixing.
Get the details right, and you'll be well-positioned to win larger jobs and seriously boost your bottom line.
The HIPPO is the Most Versatile Mixing and Application System to Maximize Your Efficiency
Reduce labor costs by up to 86%

Increase output by up to 11x!

Your best path to increasing profits is minimizing labor costs. Investing in the right mixing and application equipment is crucial to get the most out of your crew and cover a lot of ground quickly. A team of workers using barrel-style mixers or hand mixers with 5-gallon transport buckets is very inefficient and won't be positioned for success versus the MEGA HIPPO mixing station. And, fortunately, you don't have to break the bank to invest in the HIPPO mixing system.
When a customer has a self-leveling coating application, we recommend a combination of MEGA HIPPO mixing stations and Pelican Transfer Carts. The MEGA HIPPO mixing station is a powerful, dependable, economical workhorse for high-quality mixing, capable of mixing 6-bag batches and featuring built-in technology to keep the job site cleaner and safer than traditional mixers.

A Flexible Solution for Jobs of All Sizes
Why do our customers love the MEGA HIPPO so much? When the job site is humming, top applicators can expect to be mixing around 50 bags of material per MEGA HIPPO per hour. The system can provide a full ROI in as little as one job.
What is The HIPPO?
The HIPPO is a modular, easily expandable system that you can build around to satisfy jobs of all sizes. For small projects, a single operator can use the MEGA HIPPO to mix, transport, and pour directly onto the floor – at more than 4x the speed of a worker with a bucket and hand mixer.
When you factor in transporting and laying down your mix, the MEGA HIPPO mixing station provides even more impressive gains. Using a 5-gallon bucket is not ergonomically friendly to the worker who must lift and carry the bucket to the placement site. With the MEGA HIPPO, each batch is far bigger (5-6 bags) – the equivalent of 5 x 5-gallon buckets – transportation is a breeze, material placement is extremely user-friendly, very accurate, and maintains the wet edge when pouring.
You can max out your overall productivity on large jobs by setting up a HIPPO mixing system for an uninterrupted cycle of mixing and application to the floor. The mixing system is built around two MEGA HIPPO mixing stations, one Pelican transport cart, and three workers – two people feeding the mix and operating the MEGA HIPPOs, and one transporting and pouring with the Pelican. This configuration allows for a continuous cycle of mixing and application while maximizing your workers' productivity, alleviating fatigue, and maximizing your profits.
For larger jobs, you can increase your productivity with three MEGA HIPPOs and two Pelicans. With that system arrangement, 150 bags per hour is a very workable goal. With such a flexible and modular system, it is easy to add and rearrange equipment to best suit a particular job.
On top of this, the MEGA HIPPO mixing station allows you to run large jobs while simultaneously running smaller jobs with the same productivity levels. This is perhaps the greatest advantage of using the HIPPO mixing system.
Cost Savings Example when using the HIPPO Mixing System:
Reduce labor costs by up to 86%
Increase output by up to 11x!
Regardless of the size of your crew, maximize your team's productivity with the following suggestions:
First, Get Prepped
To maximize your bags per hour output, take some basic steps before firing up the MEGA HIPPOs. Make sure you have everything you need at arm's reach so that basic prep work doesn't slow you down once it's go time. Lay out all of your bags of material near your mixers – straight up, cut open, and ready to grab and dump. Get your water source filled and ready to go.
Make sure you are protecting both the job site and your crew. Take advantage of the MEGA HIPPO's dust collection port to protect the surrounding areas from dust and outfit operators with the proper PPE, per OSHA guidelines.
Need an extension cord to power those mixers? Make sure you're using a cord that is properly rated for its length and the demands of the MEGA HIPPO's high-power 15 Amp/110 V motor, or risk burnouts that will bring work to a screeching halt. If 100 feet is required, you need at least a 10-gauge cord. At 50 feet, 12 gauge will do. At 25 feet, you can get by with 14 gauge.
A distinct advantage of the MEGA HIPPO mixing station over other barrel type mixing systems is a removable liner. The MEGA HIPPO mixing station is currently the only barrel type mixing system on the market that utilizes and offers a removable liner. This liner protects the canister for extended tool life, eliminates contamination of the product, and makes cleanup a snap – saving you further on equipment and labor cost.
HIPPO Features that Improve Productivity, Keep the Jobsite Cleaner and Improve Operator Safety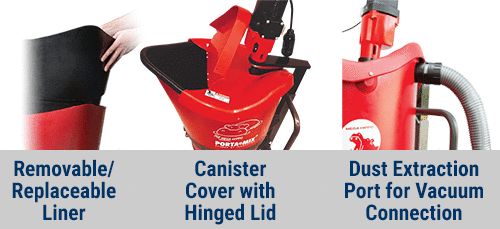 Then, Stick to the Script
Once you're set up for success, all that's left is to get your hustle on!
Outfit your MEGA HIPPOs with the correct mixing paddle for your job and add the quantity of liquid required for the batch. Start on low speed and add the dry material gradually, about 20 – 30 seconds per bag. Before the last bag is added, turn the mixer motor off, and when the paddle has stopped turning scrape the sides of the canister. Switch to high speed and add the final bag of material. Once the bag is mixed turn the motor off and allow the mixture to "burp". Scrape the sides and run for the full recommended time to get a thorough mix.
One accessory that will help to get a more thorough mix, as well as cut down on dust, is the optional chute lid. In addition to preventing worker hands and bags from entering the HIPPO barrel when in use, the lid also reduces splashing outside the mixer. The largest benefit of the chute lid, however, is to accurately drop the dry components squarely over the paddle for a more thorough mix and less manual scraping of the sides to incorporate the material.
Check out these more detailed tips to get a consistent mix every time. We've got you covered, whether your job involves liquid or dry-bag materials, with or without aggregate.
We recommend that you always follow the mixing guidelines provided by the material manufacturer. Taking shortcuts will cost you much more in the long run, from poor finish quality and costly rework to irreversible damage to both your equipment and your reputation.
If you have questions about how to best utilize the HIPPO mixing system for your specific application, we're always here to help.
Top Reasons to Choose a MEGA HIPPO Mixing System
1. Built to Last: Heavy-duty components provide consistent operation, long life, and reliability – job after job after job.
2. Powerful: A high-torque, 3-speed motor (160/290/410 RPM) to handle heavier aggregate and thicker, flowable material.
3. Large-Capacity: Mix up to 6 bags, 23 gallons or 350 lbs. at a time, or easily swap out paddles to efficiently tackle half batches.
4. Easy Cleanup: Removable, flexible and reusable liner prevents cross-contamination and protects canister
5. Narrow Profile: Fits through standard doorways with ease!
6. Job Site Maneuverability: Use on level floors with casters, or on rough terrain with air-filled tires.
7. Portability:  With a transport height of 48", the MEGA HIPPO easily fits into open-bed trucks or in transport vans.
8. Versatility: Team the MEGA HIPPO with a Pelican for the ultimate, modular mixing system. Your HIPPO system fleet can be mixed and matched to do multiple small jobs in one day or bring them all together to handle large projects.
9. Social Distancing: When there is a need to social distance on the job site, the HIPPO system allows workers to remain productive while maintaining the required separation.
| | |
| --- | --- |
| | Learn more about the tools in this article: |