MEGA HIPPO Mixing Stations
Maintain Social Distance - Portable Mixing Stations with Dust Collection and Lid
Create a cleaner, safer work environment - comply with OSHA regulations (in addition to personal PPE)

Specially shaped mixing bowl eliminates pockets of unmixed product and allows for easy cleaning
9" diameter paddles with helix ribbon and side bars lift and shear product quickly to produce excellent consistency and thorough mixing of colors and additives
Resilient, pliable replaceable liner makes clean-up a breeze; alternating liners prevents cross contamination
Reduce airborne dust and splatter with new hinged canister cover and vacuum port
NEW HIPPO with Dust Collection and Integrated Canister Lid - Boost productivity, lower labor costs and reduce physical effort
Ideal for mixing compounds, including polymer self-leveling products, engineered concrete, cement screeds, overlay, underlay, textured coatings, sealants, adhesives, epoxies, resins, cementitious urethane, slurries, pre-tinted material and other self-leveling compounds.
Ideal for consecutive batch mixing without downtime, as well as mixing in bulk and dispensing into the Pelican Cart or small containers.
Dust extraction port collects dust when connected to a dust extraction vacuum
Integrated hinged canister lid prevents splatter
The "Easy-roll Trolley" and the balanced "Easy-tilt Cradle" let you pour and spread material at the same time.
Multi-stage pours to achieve a thicker screed are often not necessary.
Wheel covers ensure that the casters remain free of screed splatter.
Mix, transport and pour directly onto the floor – with one operator.
Full-brim capacity of 23 gallons, 350 lbs. or 6-bag batches.
One-person operation to maintain social distance! The MEGA HIPPO requires fewer laborers than with common barrel-style mixers:
ONE worker adds/mixes materials in the HIPPO and pours mix into a Pelican Cart
 
ONE worker uses the Pelican Cart to transport and pour while the next batch is mixing in the HIPPO
 
Workers can remain more than 6 feet apart
Specifications
Paddles
Liner
Parts & Accessories
Videos
Pneumatic HIPPO
Power (110 V)
20 Amp (2300 W)
3-Speeds
160 / 290 / 410 RPM
Bucket Capacity
23 Gal / 6 bags (50 Lb) / 350 Lbs*
86 L /  6 bags (22 Kg) / 160 Kg
Width
23-3/4"
Transport Height
48"
Tilting Cradle
Balanced For Easy Operation
Weight
109 lbs
* 220 Volt & Air-Powered Models Available
PMH80F-DC3.1 With Casters and NEW 3-speed motor

Ideal for flat floors. Allows accurate placement - pour and spread at the same time. Comes with 4 casters.

PMH80X-DC3.1 With Off-road Tires and NEW 3-speed motor

Ideal for rough terrain. Increased height - pour directly into buckets or carts. Comes with 2 tires / 2 legs.
Standard Equipment includes:
Mixing motor, bucket, removable liner and 2 paddles: TW225 for half batches (2-3 bags) and TW225D for full batches (5-6 bags)
*Less material reccomended for optimal performance with use of heavier aggregate and thicker flowable material
Helix Ribbon Paddles for Thorough Mixing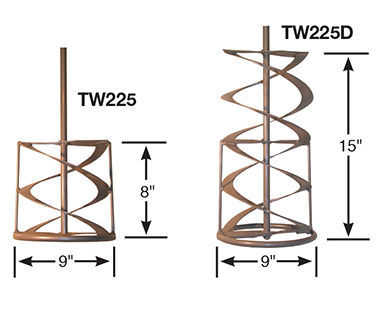 The MEGA HIPPO® is supplied with two 9" dia. mixing paddles:
The 9" wide helix and side bars lift and shear the product quickly and efficiently to produce an excellent mix consistency and thorough mixing of colors and additives. The paddle's large 9" diameter provides increased peripheral speed which eliminates the need for high-RPM mixing and helps to prevent flash curing.
 
Order No. TW225 – for half batches (2-3 bags); 9" dia. x 27" long. For plasters, concrete, mortars, resins and tile adhesives. 8" long helix and side bars.
Order No. TW225D – for full batches (4-6 bags); 9" dia. x 27" long. For self-leveling compounds, screeds, paints, plasters and epoxy. 15" long helix and side bars.
MEGA HIPPO Liner - PH705 - Removable Liner for MEGA HIPPO
Save time and extend bucket life with a removable liner!
Multiple Batch Mixing with Removable Liner
Mixing multiple batches is easier and faster with the new removable liner and rimless bucket system.
Mix consecutive batches without downtime
Resilient, pliable liner is easily cleaned
Alternating liners prevents cross contamination
Extends life of bucket
After mixing the first batch, the liner can be removed and cleaned. To speed up production, a second liner can be used while the first liner is being cleaned. The use of a liner also helps to prevent cross contamination and minimizes wear to the HIPPO bucket, extending its life.
 
| Order No. | Description |
| --- | --- |
| PH705 | Removable liner for PMH80 Hippo Mixing Stations |
| Part No. | Description |
| --- | --- |
| PH714 | Rimless Canister for PMH80F-DC and PMH80X-DC |
| PH718 | Hinged Lid for use with PH714 |
| PH723 | Chute Lid for Hippo Mixing Station |
* If your HIPPO was purchased before 2018, call 1-800-700-5919 for canister replacement part number. Retrofit lid kits are also available.
MEGA HIPPO Caster Set - PH400 - "F" Series Caster Set

Set of 4 casters with bolts for use with the MEGA HIPPO PMH80.

Ideal for use on level floors

| Order No. | Description |
| --- | --- |
| PH400 | Set of 4 casters with bolts |
MEGA Hippo Tire Set - PH500 - "X" Series Wheel Set

Set of 2 tires, axle and feet for use with the MEGA HIPPO PMH80.

Ideal for use on rough terrain

| Order No. | Description |
| --- | --- |
| PH500 | Set of 2 wheels, axle and feet |
PORTAMIX HIPPO Mixing Stations with Pneumatic-Powered Mixing Motor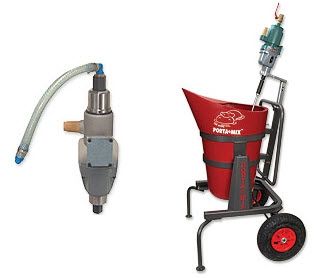 Two air-powered models are inherently safer for mixing paint, glue, epoxy, mortar, concrete, refractory cement and other materials in shipyards and the oil and gas industries. They can be used around water with no fear of shock or blown circuitry.

PMH80F-AIR-DC - Casters for level floors, with rimless bucket and removable liner

PMH80X-AIR-DC - Tires for rough terrain, with rimless bucket and removable liner
Pneumatic Motor -
90 PSI / 67 CFM / 2.2 HP
2 Speeds -
190 RPM and 420 RPM
Pelican Cart for use with MEGA HIPPO Mixing Stations
For uninterrupted mixing, use your MEGA HIPPO Portable Mixing Station as a stationary mixer and pour the mixed material into the Pelican Cart for transport to the application area.