Pole Scabbler/Pole Tamper - LPS55
Applications:
Heavy scabbling hard to access areas such as below reinforcement bars and between shuttering
Scabbling of corners, edges and joints
Fast removal of material
Aggressive keying without damaging the substrate
Tamper feet allow back filling of small areas
Features:
Replaceable scabbling heads and tamper feet
Long handle for extended reach into inaccessible areas
Angled air inlet to direct hose away from operator​
Hand guard to protect user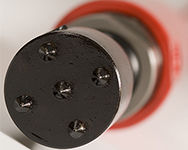 CS Unitec's LPS55 uses 1100 blows per minute to quickly remove concrete without damaging the substrate. This powerful long-reach scabbler is ideal for vertically preparing hard-to-reach areas. Its 4-1/2 ft. length allows scabbling below reinforcement bars.
Specifications
Optional Accessories
LPS55
Length – 55"
Blows per minute – 1100
Air consumption – 24.6 CFM @ 90 PSI
Production rate – 130 sq. ft./hour
Cutter life – 12,000 sq. ft.
Model No.
Description
Weight (lbs.)
Vibration Level
(Aeq m/s2)
150.5001
LPS55 with 5-point Scabbler Head
29.5
35.0
150.5002
LPS55 with 9-point Scabbler Head
29.5
35.0
150.5031
LPS55 with 5" Round Compactor Foot
28.6
44.5
150.5030
LPS55 with 4" x 4" Compactor Foot
28.6
43.0
150.5021
LPS55 with 6" x 5" Compactor Foot
29.75
43.6
441.5359
5-Point Bush Scabbler Head
(includes fit pin)

441.5369
9-Point Bush Scabbler Head
(includes fit pin)

441.5360
Cruciform Scabbler Head
(includes fit pin)

450.5017
Round Compactor Foot
5" diameter)

450.5011
Square Compactor Foot
(4" x 4")

450.5013
Compactor Foot
(6" x 5")

450.5016
Compactor Foot
(4" x 8")

815.5550
Whip Check

859.1580
3/4" BSP Inline Lubricator

715.0752
3/4" Air Hose with couplings
49' (15m) length