ETN 162/3 P
The versatile combination for wet/dry drilling
The most powerful hand-held Diamond Core Drill in the industry!
Holes up to 8" diameter hand-held dry drilling in masonry, brick and block
Hand-held wet drilling up to 3-1/4" diameter in concrete
Rig-mounted drilling up to 6-3/8" diameter in concrete
Mechanical Slip Clutch Design
19.5 Amps and 3 mechanical speeds
Load Speeds: 0-510 / 0-1150 / 0-2500 RPM

Drilling Diameters for Concrete and Brickwork
Concrete (Wet)
Gear 1: 3-1/4" to 6-3/8"*
Gear 2: 1-3/4" to 3-1/4"
Gear 3: 1/2" to 1-3/4"
Brickwork (Dry)
Gear 1: 4-1/4" to 8"*
Gear 2: 2-1/4" to 4-3/4"
Gear 3: 1/2" to 2-1/4"
*with drill rig
Model ETN 162/3 P is a versatile Wet or Dry Diamond Core Drill with a Water Swivel and Dust Extraction Port built directly into the spindle. It easily connects to a vacuum for dust extraction. The drill stand mount allows the operator to switch from hand-held to stand-mounted drilling quickly. The drill stand is adjustable up to 45°. Core drill includes drill bit connections 5/8" x 11 UNC and 1-1/4" x 7 UNC.
Optional accessories include anchor stand (with or without vacuum pump), centering aid, portable water tank, water collection ring kit and Unicore Diamond Core Bits.

Use:
Wet drilling in reinforced concrete, natural stone and asphalt
Dry drilling in limestone, brick, block and other abrasive materials
Ideal for plumbing, mechanical and electrical construction, as well as civil engineering and landscape construction
| | |
| --- | --- |
| ​ | Gardena Hose Connector |
P Hand-Held
PSA Anchor Stand
PSV Anchor Vac Stand
Accessories
Features
Power input
19.5 Amp
Rated Voltage
110 V
Load Speeds (RPM)
0-510 / 0-1150 / 0-2500
Drilling Diameter
3"
Spindle Connection
1-1/4"x7 UNC

5/8"x11 UNC
Collar Diameter
60mm
Weight
15 lbs (motor only)
Supplied
In a molded carrying case with water swivel, gardena hose connector, dust extraction port, 5/8" x 11 UNC adapter and open wrench SW 32 + 41
Power input
19.5 Amp
Rated Voltage
110 V
Load Speeds (RPM)
0-510 / 0-1150 / 0-2500
Drilling Diameter
Wet: 1/2" to 6-3/8"

Dry: 1/2" to 8"
Spindle Connection
1-1/4"x7 UNC

5/8"x11 UNC
Column Length
39-1/4"
Hub
27-5/8"
Weight
34 lbs.
Supplied
ETN 162/3 + BST 162 V without drill bit
Power input
19.5 Amp
Rated Voltage
110 V
Load Speeds (RPM)
0-510 / 0-1150 / 0-2500
Drilling Diameter
Wet: 1/2" to 6-3/8"

Dry: 1/2" to 8"
Spindle Connection
1-1/4"x7 UNC

5/8"x11 UNC
Column Length
39-1/4"
Hub
27-5/8"
Weight
34 lbs.
Supplied
ETN 162/3 + BST 162 V + vacuum pump (P/N 253 511)

without drill bit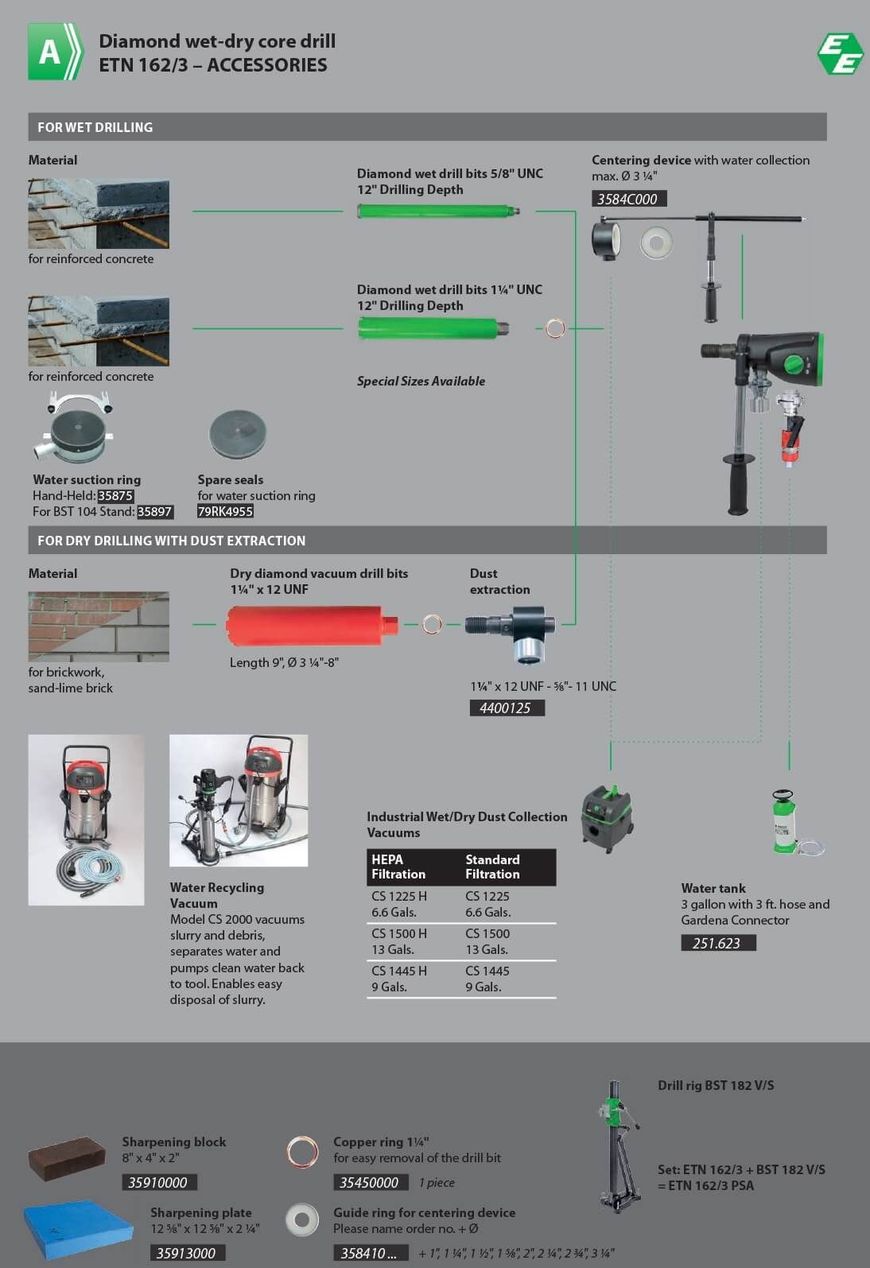 3 speed oil bath gearbox – for optimal lubrication in all working positions, due to the newly developed oil pump
Mechanical safety clutch
Built-in 1-1/4" x 7 UNC spindle; 5/8" x 11 UNC adapter included
Combination spindle with integrated connection for centering rod – fast, precise spot drilling
Changing system – fast conversion between wet and dry applications
Integrated leveling bubbles on the machine and hole center indicator allow for precise drilling
Quick-mounting system – apply the motor to the drill rig without the need for tools
Column of the rig can be adjusted to 45˚
Compact combination base – fixing with anchor or vacuum (vacuum pump required)
Feed handle changeover without any tools – easy change on the jobsite
Temperature control and overcurrent cut-off, optical overload indication, constant speed
Service-LED – lets you know when the carbon brushes need changing (works for approx. 10 working hours before shutdown)
Removable wheel axle (accessory) – easy transport