EKF 300 & 400 Series Portable Hand-Held Beveling Machines
Bevel, deburr and chamfer edges of steel plate fast
Fine adjustment feature for slight chamfers when deburring for the preparation of weld seams
Four carbide milling head inserts – 30°, 45° 0.063" (1.6mm) and 0.098" (2.5mm) available
Ideal for straight edges, inner and outer radii
Designed to bevel 30° or 45° weld seams on steel, stainless, nonferrous metals, brass and plastics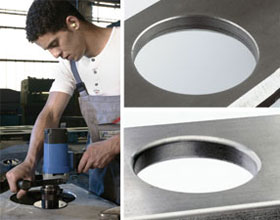 Ideal for the following applications:
Moldmaking (straighten edges, internal and external radii and countersink holes from 7/8" dia.)
Boiler and process plant construction (prepare weld seams on heat exchangers)
Mechanical engineering (deburr machine parts, chamfer edges to protect against paint peeling and create visible edges)
Sheet metal (deburr cut edges)
Specifications
Accessories
Standard Equipment
Demo Video
Model (Part No.):
EKF 300.3
EKF 450.3
EKF 452.3
Beveling Angle*
30°
45°
2.5 mm (0.098")
Max. Bevel
Width **
1/4"
1/4"
1/4"
Motor Power
 13.5 Amp
13.5 Amp
13.5 Amp
Voltage
All machines: 110 V (220 V / 50 Hz also available)
Cutting Speed
3000 SFPM
Cutting Inserts
3
Dimensions (LxWxH)
All machines: 15-3/4" x  13-13/16" x 11-13/16"
Weight
10.5 lbs.
* EKF milling heads are interchangeable.
** Max. bevel width may require several passes, depending on material hardness.
Cutting Inserts – Sold as pack of 10

| Part No. | Description |
| --- | --- |
| SHM 200 | 30˚ and 45˚ |
| SHM 200-E | 30˚ and 45˚ for stainless steel |
| SHM 201 | 1.6mm radius (0.063") |
| SHM 202 | 2.5mm radius (0.098") |
Milling Heads
Part No.
Description
 
ZFR 300.3
Milling Head, 30˚

ZFR 450.3
Milling Head, 45˚
ZFR 452.3
Milling Head, 2.5mm
Milling Cutters
Part No.
Details
 
EKF 300.3
Milling cutter 30˚
Chamfer 0 - 1/4"

EKF 450.3
Milling cutter 45˚
Chamfer 0 - 1/4"

EKF 452.3
0.063" (1.6mm)
0.098" (2.5mm)
 
EKF Portable Multipurpose Beveling Machine Standard Equipment Includes:
Milling head 
Six inserts
SW22 Wrench
Sickle Wrench
1 Torx T9 Screwdriver
Carrying case
User's manual