Pneumatic Concrete Chain Saws
Air Concrete Chain Saws with AirFORCE F4™ Diamond Chain
For use with concrete and reinforced concrete
Up to 20" cutting depth
Optimized AirFORCE F4™ standard and premium diamond chains available
No gas or engine fumes
Can be converted to pipe cutting saw for ductile iron
Low cost of operation
No gas or engine fumes
Durable industrial finish
Built-in wallwalker for leverage
Pneumatic Concrete Cutting Chain Saw
The CS Unitec concrete cutting chain saw is built tough to stand up to everyday use in the harsh environment of concrete cutting.  The unique versatility of this saw includes the ability to cut mechanical openings, perfect corners, deep plunge cuts (up to 20" deep and 15" square), and an endless variety of irregular shapes that are simply not possible with circular saws. A hydraulic version of the concrete chain saw is available.
Specifications
Features
Pneumatic PowerHead
 
Model No.
CS 536664-1
Model No.
CS 536664-2
Model No.
CS 536664-3
Power
6.5 HP
6.5 HP
6.5 HP
No Load Speed
5700 RPM
5700 RPM
5700 RPM
Max. Depth of Cut
10"
15"
20"
Motor Specifications
124 CFM @ 90 PSI*
(6 Bar)
124 CFM @ 90 PSI*
(6 Bar)
124 CFM @ 90 PSI*
(6 Bar)
Weight w/ Bar and Chain
32 lbs.
33 lbs.
34 lbs.

No Load Torque (ln.-lbs)

104
104
104
Noise Level at 3 ft.
88 dB
88 dB
88 dB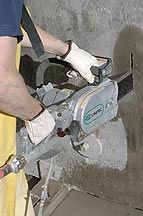 Plunge cut up to 20" deep!
Safety operating trigger prevents accidental starting
Now with AirFORCE F4™ Diamond chain – optimized for use with pneumatic and hydraulic saws
Perfect square corners up to 19" with no overcuts
Cut mechanical openings and irregular shapes
Durable industrial finish on die-cast aluminum body stands up to harsh environments
Built-in Wallwalker provides leverage advantage to make cutting easier
Modular design for easy service
Reliable and easy to maintain – No belts, carburetors or fuel lines to maintain
Stretch Reduction System (SRS) maximizes chain life and reduces need for adjustments
No gas or engine fumes
Low cost of operation – Pays for itself every time you use it with faster cutting and completion of most jobs in a fraction of the time other saws would take
Optional SpeedHook guide saw for straight cutting.
High torque output for tough cutting jobs
Powerful 6.5 HP air motor
No gas or engine fumes – ideal for confined spaces and indoor use
Noise level: 88 dB at 3 feet (approx. 1 meter)
Weight: 29 lbs. (without bar and chain)
Length x Height x Width: 20" x 10.5" x 12" (58.5 cm) x (26.5 cm) x (30.48 cm)
Water Requirements: Minimum 1 GPM / Minimum 20 PSI